Undisputed

xoxo

Male
35 years old
Lancaster, Pennsylvania
United States

Last Login:
January 26 2021



View: Photos | Blog | Layouts

Birth name: Austin Jenkins
Current name: Adam Cole
Nick names: The Panama City Playboy
Age: 31 years
Date of birth: July 5, 1989
Date of death: N/A
Home town: Lancaster, PA
Current location: Full Sail, Florida
Species: Human
Gender: Male,
Height: 6 foot
Skin color: # Peach
Hair color: # Black
Eye color: # Baby blue
Abilities: I can kick hard
Physical appearance: Small and powerful
Personality: A little conceded, a lot successful



| | |
| --- | --- |
| Groups: | |
Undisputed's Blurbs
About me:
Who I'd like to meet:
Violent ends prmds
your #1 resources site
The man

Austin Jenkins (born July 5, 1989) is an American professional wrestler currently signed to WWE, where he performs on the NXT brand under the ring name Adam Cole. He is the leader of The Undisputed Era, alongside Bobby Fish, Kyle O'Reilly, and Roderick Strong. He had the longest reign as NXT Champion in the promotions history.
subtitle here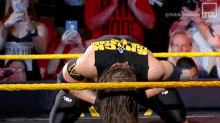 Pre-WWE Days

Before signing with WWE in 2017, he was mostly known for his eight-years tenure with Ring of Honor (ROH) where he became the first-ever three-time ROH World Champion. In addition, he is a one-time ROH World Television Champion, and the winner of the 2014 ROH Survival of the Fittest tournament. Cole has also wrestled for several independent promotions, including Chikara, Combat Zone Wrestling (CZW), where he is a former CZW World Junior Heavyweight Champion, and Pro Wrestling Guerrilla (PWG), where he was a former PWG World Champion; he holds the records for longest reigns for both titles. He also worked in New Japan Pro-Wrestling (NJPW), where he was part of the Bullet Club stable.
subtitle here
The Transition

My grandmother played a huge influence in my life and helped raise me, and she and my mother saw how much I loved pro wrestling and how much I wanted to go after it. I'd been told countless times, even before I got into pro wrestling, that I would never amount to anything and that I'd never achieve this dream. I do feel in 2018 that pro wrestling has gone in such a different direction. Before, things were so black and white; now, it's shades of grey. It's not so much good guys and bad guys: there are people who are put in situations who do the right or wrong things, but people react to them like they are stars.
subtitle here
Violent ends prmds
your #1 resources site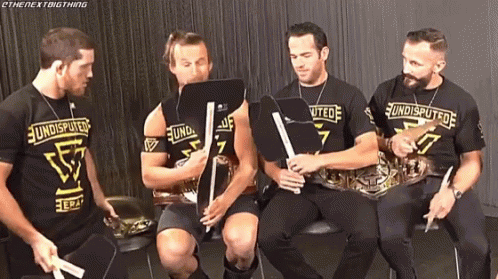 The Boys

With me, Bobby Fish, and Kyle O'Reilly, I know on-screen we are these brothers whose bond can't be broken, and we are this faction. I promise you, it's very real behind the scenes, too. I've known those guys for years. We travel together all the time; we talk every single day. The only thing cooler than having a dream and accomplishing that dream is getting to do it with your buddies.
subtitle here