Princess Tasena Grimtooth

Goblins Regula, Moartฤƒ pentru toลฃi oamenii =Not Poison Ivy= SERIOUS ADDS ONLY

Female
114 years old
Bucharest, Bukarest
Romania

Last Login:
March 29 2020



View: Albums | Blog | Layouts

Princess Tasena Grimtooth's Interests
| | |
| --- | --- |
| General | |
| Music | |
| Movies | |
| Heroes | |
| Groups: | |
Princess Tasena Grimtooth's Details
| | |
| --- | --- |
| Member Since: | December 12, 2013 |
Princess Tasena Grimtooth's Latest Blog Post

[Subscribe to this Blog]


Family Ties and Binds (view more)


Rules-- MUST READ (view more)


[View All Blog Posts]
Princess Tasena Grimtooth's Blurbs
About me:
She was born third in line to the crown belonging to her mother, Queen Elzabell. In the goblin time line of things Tasena is still considered 'young' despite her years in human terms. She is her father's favorite because she is the one who is most like him when it comes to general attitude, spirit, and ambition. Where she is different however is that she does not desire to rule, or settle down. Her heart is in exploration, travel, and things that the royal family might otherwise look down upon. It is said she is the son her parents should have had and didn't.
As the youngest of three children, Tasena is a rebel. As her sister's were favored more often than not by their mother, as they strove to make her proud, Tasena often found herself in trouble with the Matriarch of the Oradea Kingdom. Not to say she did not attend her studies, lessons, and practices because she did, and usually exceeded the expectations of even the most revered of instructors. However, she enjoyed those things that boys were partial to, and later as men. Needless to say, this greatly disappointed her mother and secretly made her father very proud. Tasena had the mind for those burdens that were weighted on the shoulders of the king and queen. His disappointment was that she had no interest in it.
Besides the obvious that set Tasena apart from her other siblings, was that she was not an ounce shy about sharing her disdain and triumph with the other members of her family. This sometimes caused friction between mother and daughter, as the queen usually pulled her ruler card, leaving Tasena to obey, and petty squabbles amongst the sister's as Nanneana the middle sister, and Aigara the eldest, seemed to team up on Tasena in order to press upon her their opinion. She had no choice but to let them know from an early age that they could not intimidate her, or force their preferences upon her and make them hers. After many heated and sometimes bloody battles they realized the impossible and left their sister alone, relying on one another for what they could not seem to get out of Tasena.
Time went by and Tasena soon became a young woman. Her mother and queen hoped her daughter's behavior had been a phase. A stage in her life, as most experience, when the world feels like it is against you. The telling signs were there to her mother's disappointment that this was not the case with Tasena, for out of that stage and aggressively young, and rebellious woman was born and she made it clear she would take none of her mother's dictating her life any longer.
What Tasena didn't know, given the closeness she shared with her father, was that he was terminally ill. In the goblin term this meant he had 9 months- 5 years left to live. This was not a very long length of time. So anything that could have waited was soon thereafter expedited. A suitor and soon a husband had been found for Nanneana in an arranged marriage, and the king and queen had relied on the favors of old friends in order to make the offer they had, resulting in the grandeur of the court hosted by the rulers of Sibiu in the goblin wastelands of Vendhya.
It would never do well to find a husband for Tasena who put restraint upon her in a capacity that forced her to remain put. Queen Airara and King Rathbone also knew it would be in their son's best interest, despite being gone for the last 15 years, to settle with someone more suited to his preferences and so had agreed. Despite the rulers being old acquaintances it had been years since they had seen one another, and not in the time Tasena had been born. So she had never met any of the Noreshia family until the day of court. Aigara and Nanneana had not seen them since before Aigara had been married, and with the news of King Xzoth's illness it was time to rekindle old friendships, and strengthen those bonds, before anyone could destroy them. Which unbeknownst to all of them was exactly what Eardas Darkyell, Aigara's husband, and Gillroot's second mate (Eardas's brother) had in mind when Eardas decided he wanted the crown to Oradea for himself and the Darkyell bloodline.
What will become of the rulers of both the Oradea Kingdom and the Sibiu Kingdom it anyone's guess but the plot surely thickens especially for both Tasena, who has been spirited away by the goblin prince, and the goblin prince, Gilroot.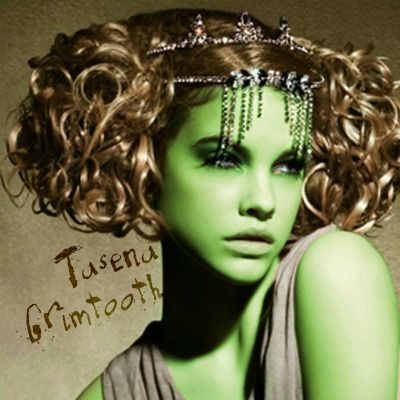 Third Daughter of King Xzoth Grimtooth and Queen Elzabell Grimtooth and Princess of The Wasteland Court, Dutchess of The Unseelie Crones, Lamplighter and Dignitary Assistant.
We Goblins are of the Unseelie Court, and are at war with fairies. In some circles, Goblins are considered to be the cousins of gnomes, except that gnomes are stupid and no one with half a brain could confuse the two.
We can appear as animals or large groupings of insects; mostly unseen by humans and often wearing dark clothing.
It is said that goblins mimic human actions in their sardonic way; twisting human rituals and cultures in order to show the worst aspects of it.
In recent depictions Goblins have been portrayed as green in color. Goblins are also associated with fire, or have the ability to create said element.
They can weave nightmares out of gossamer and insert them into the ear of a sleeping human.
Goblins are pranksters! We are known for rearranging items in the house, tangling horses, banging pots and pans, removing the clothes from sleeping humans, knocking on doors and walls and even digging up graves to scatter the bones around.
Goblins like to borrow horses and ride them all night. If a horse is tired in the morning, it is said a goblin rode it. If a horse is panicking, a goblin is trying to mount it.
Goblin women also referred to as "hags" or "crones"; steal human babies, and replace them with ugly goblin babies called 'changelings' also known as "oafs" or "crimbils".
Goblin Royalty demand respect from all creatures. They appear arrogant; however, that is our birthright and I am no exception to the rule.

Who I'd like to meet: