Ghost of Christmas Future


Male
30 years old
New York, New York
United States

Last Login:
December 18 2018



View: Albums | Blog | Layouts






Ghost of Christmas Future's Details

| | |
| --- | --- |
| Body type: | Athletic |
| Ethnicity: | White/Caucasian |
| Height: | 6"6' |
| Characters: | Vincent Valentine |
| Verses: | Comic, Video Games |
| Playbys: | Ben Barnes |
| Length: | Multi Para, Novella |
| Genre: | Action, Comic, Drama, Science Fiction, Supernatural, Video Game, |
| Status: | Single |
| Member Since: | May 28, 2017 |








"Oh, how wrong we were to think immortality meant never dying."





Ghost of Christmas Future's Latest Blog Post

[Subscribe to this Blog]


[View All Blog Posts]




Ghost of Christmas Future's Blurbs
Verses

Final Fantasy - Comics - Movies - Video Games
Multi Para - Nerdy
Notations
Multi-LI. Multi-para/Novella only. OOC=Messages. IC Exchanges=Comments or messages.
Obligations
Owe_________ a starter
Owe_________ a comment
Connections
Vincent Valentine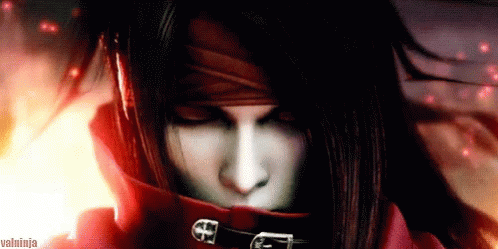 I guess...it's time to save the world.
About twenty-five to thirty years before Final Fantasy VII, Vincent was a member of the Turks, then known as Shinra Electric Power Company "Department of Administrative Research". When he was assigned to supervise the Jenova Project in Nibelheim, he fell in love with a scientist named Lucrecia Crescent, an assistant to Gast Faremis. When he discovered her link to his deceased father, Grimoire Valentine, Lucrecia distanced herself from Vincent and entered a relationship with her associate, Professor Hojo. Lucrecia became pregnant and Hojo planned to use the fetus as a test subject for the Jenova Project.
Vincent objected to the use of humans—especially Lucrecia—as test subjects. In the interest of science Lucrecia proceeded with the treatment and became sick as a result. Vincent confronted Hojo in the Shinra Manor's underground laboratory, and amid the heated argument Hojo shot Vincent in the chest. Hojo used Vincent's half-dead body as test subject for experiments involving strengthening the endurance of the human body and metamorphosis, enabling the body to transform into various monstrous forms. While Hojo made Vincent's body stronger, the experiments failed because Vincent, though still living, remained in a death-like state.
As a last resort to rehabilitate him, Lucrecia infused the Chaos-tainted Mako into his broken-down body. The procedure worked, as Vincent's body, due to Hojo's previous experiments, was strong enough to become a vessel for Chaos, a mysterious entity with incredible power. However, Chaos was uncontrollable, and was only stopped when the Protomateria—a one-of-a-kind Materia—had a reaction to it. The Protomateria, discovered by Grimoire alongside Chaos, was theorized by Lucrecia to have been created by the Planet "out of necessity as a means to control Chaos and prolong its own inevitable fate", and was placed in Lucrecia's laboratory.
Lucrecia put the Protomateria inside Vincent's chest, enabling Vincent to control Chaos to a degree. Due to Hojo's experiments and the combination with Chaos, Vincent acquired superhuman abilities, such as amplified strength, speed, endurance, agility, regeneration, shape-shifting, and other powers. Vincent awakened on the operating table and responded to his modified body with anguish and rage.
I'm just a sucker for pain.
Believing himself responsible for Lucrecia's illness after her son Sephiroth's birth, Vincent locked himself within a coffin in the Shinra Mansion basement, where he slept mostly undisturbed for over twenty years to atone for his "sins". He constantly relived his nightmare as a punishment for his inability to stop Lucrecia from submitting to Hojo's experiment on her unborn baby.
Having saved his world twice after awakening by Cloud and the others, Vincent decided to try to make his life away from Gaia and away from the nightmares that still plagued him. Immortality in front of him, he found his way to Earth, where he works as a chef and a part time hitman.
Legal
NAME: Vincent Valentine
NICKNAMES: Vince, Vinny, Vin
ALIASES: Chaos
DATE OF BIRTH: October 13
PLACE OF BIRTH: Junon, Gaia
CURRENT RESIDENCE: New York City

Physical
ETHNICITY: Caucasian
HAIR COLOR: Black
EYE COLOR: Red
HEIGHT: 6'4
WEIGHT: 200 Lbs.
BIRTHMARKS/SCARS: Several scars

Personality
Traits: Cold, distant
Disorders: OCD, PTSD
Addictions:None
Likes: Quiet, thunderstorms, good books
Dislikes: Most scientists
Quirks: Can be aloof but darkly funny

Education
High School Junon Private Academy
College None
Major None
Degree None

Employment
OCCUPATION: Chef
JOB DESCRIPTION: He's a chef.
EMPLOYER: None
SKILLSET: Assassinations, Magic, Firearms, Cooking

Family
MOTHER: Esmerelda Valentine
FATHER: Grimoire Valentine
SISTER(S): None
BROTHER(S): None
Other Family: The rest of Avalanche

Relationships
SEXUAL ORIENTATION: Pansexual
RELATIONSHIP STATUS: Multi
CURRENT RELATIONSHIP(S): Wanda Maximoff, Damian Wayne
PAST RELATIONSHIP(S): Pamela Isley-Valentine, Emma Frost

Powers

The Galian Beast is Vincent's primary transformation, and can be triggered at any time. Taking the form of something resembling a giant blue werewolf, he is granted the ability to shoot fireballs out of its palms and boost his strength and endurance. His special attacks are Beast Flare and Berserk Dance.

The other transformation is into the legendary Chaos, harbinger of death and destruction. Unlike the Galian Beast, Chaos cannot be controlled until Vincent is in possession of the Protomateria, and will kill anyone and anything in it's way, including friends. Vincent's main gift is his unbelievable strength and agility, and the assistance of his prized, triple-barreled gun, Cerberus. His abilities range mostly to his shape shifting, where his most powerful abilities are unleashed.

Chaos can keep Vincent's regular weapons, but also obtains the ability to summon a ultra-powerful gun known as Death Penalty, shooting enormous lasers out of it rather than simply bullets. While not as powerful, Vincent can also maintain three other forms; Red Cape, Death Gigas, and Hellmasker.

Red Cape: Mainly used for evasive maneuvers; Vincent can temporarily meld his entire body into the form of the crimson cape and fly around, firing off several rounds from Cerberus at the same time.

Death Gigas: While this may look familiar in movies, Vincent does indeed take the form of Frankenstein in this transformation. While not swift and agile, this brute makes up for in strength, and can take a lot more damage than even Chaos. He attacks with Gigadunk and Livewire.

Hellmasker: Also familiar in movies is Vincent's rendition of Jason the Killer, with a rotating head and a mega-powerful chainsaw at his disposal. Not too fast, and not too slow to attack, Hellmasker is a vicious attacker, able to land several blows with the chainsaw at once on an enemy. Special attacks are, but are not limited to, Splattercombo and Nightmare.

Though there is a limit to how often this could occur, Vincent has an innate ability to restore and regenerate his cells, healing any wounds which may otherwise be life-threatening. It is not always reliable, and not often-occurring. Despite his monstrous form, he is still half-human.
Main Connections
Wanda Maximoff Scarlet Chaos

Two science experiments gone horribly right. Both used as weapons, both experimented on and both looking to find their place in the world. She serves the light while he works from the shadows to make sure there's light to be had. When it came to them finding each other...it was just a matter of magic.

Damian Wayne True Chaos

The night served the two of them, servants of the shadows both. It seemed only right that they find each other, found comfort in one another. He did his best to show that humanity still did exist inside of him and he showed why it was worth protecting.

Name 3 Here

CONNECTION BOX 3 TEXT
Copyright & Disclaimer
COPYRIGHT 2013. ALL RIGHTS RESERVED.
This page contains material protected under International and Federal Copyright Laws and Treaties. Any unauthorized reprint or use of this material is prohibited. No part of this page may be reproduced or transmitted in any form or by any means, electronic or mechanical, including photocopying, recording, or by any information storage and retrieval system without express written permission from the author.
I am not the person in the photographs. This profile is for creative purposes only.
...Oh. Add Jason Todd. He wanted the bottom most space. http://www.roleplayer.me/1307343
Ghost of Christmas Future's Friend Space
Ghost of Christmas Future has

367

friends.