Yang's fighting style is much more aggressive than that of her teammates. She uses a barehanded fist-fighting style and her Ember Celica. She is quite agile, able to dodge an onslaught of Ursai, and gunfire with ease. Since gaining her prosthetic arm, Yang has taken to using its armored surface defensively, shielding herself from firearms, and staving off attacks to gain greater ground on her opponents, incorporating its advantages into her improved fighting style following further instruction from her father, Taiyang Xiao Long.
She is also the physically strongest of the group. Her strength is displayed on numerous occasions, such as when her punch sent a fully grown man several feet into the air and through a glass pillar without the enhancement of her weapon, and in "Players and Pieces", where she was able to keep the mouth of a Nevermore open with one arm long enough to deliver multiple shots down its throat.
Like all Huntsmen and Huntresses, Yang has had her Aura unlocked, coating her body with a shield powered by her soul, which helps protect her, especially when her aggressiveness gets her into bad situations. Even with her Aura unlocked her durability is also noticeably high, as showcased in her doubles match with Weiss against Flynt Coal and Neon Kattduring the Vytal Tournament, where she withstood numerous hits from Neon during the bout's opening stages, and powered through the effects of Flynt's weapon, knocking him out and securing victory for her side shortly after.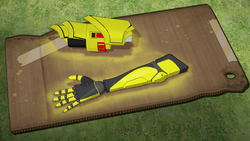 Yang's weapon is radically different compared to those used by her teammates, for theirs all include some sort of blade. Yang's primary weapon is a pair of gauntlets known as Ember Celica, which can retract into bracelets. Yang's fighting style involves combining her punches with explosive shots from Ember Celica for moderate or short ranged attacks. Ember Celica has powerful recoil, which can be utilized to augment the force of her punch and accelerate her movements, the force being able to launch her high in the air. She can also use her Ember Celica as a form of armor when defending against attacks in unarmed combat. After the events of "Heroes and Monsters", Yang only has one Ember Celica, due to her lost arm.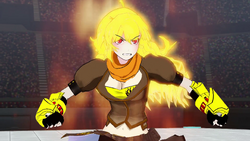 As Ruby states during the events of "Painting the Town...", Yang's Semblance lets her take the energy from every blow she takes and use it to make herself more powerful, showcased when Yang completely shatters the Atlesian Paladin-290 in a few hits after being battered by it; this seems to be a form of kinetic energy absorption, with Yang subsequently redirecting said energy against her opponent. After a sparring match with his daughter in "Two Steps Forward, Two Steps Back", Taiyang states that the amount of energy Yang's Semblance grants her is equal to twice the strength she is hit with. However, she does still take the full force of the attack, meaning that quickly inflicting large amounts of damage is the key to taking her down.
As the combat becomes more intense or she is angered enough, fire appears around her hair. During the final state of her Semblance, her eyes turn red and her fire is capable of bursting out of her. Yang's Semblance does not make her angry, but anger has led her to want to use it.
Although a powerful Semblance, Yang is unable to power it up without taking damage first[6], weakening herself in the process. As seen in her fight with Neopolitan, fighters well-versed in dodging attacks can frustrate Yang, making her attacks predictable and easily avoided, rendering the added power useless. Her anger also causes her to unintentionally activate her Semblance, even if she is not in a battle. Examples of this include her frustrated outburst in "Players and Pieces", her moment of anger toward Blake in "Burning the Candle" and two times in her doubles round tournament fight in "Never Miss a Beat".
Yang's father Taiyang somewhat jokingly defines her Semblance as "basically a temper tantrum" and a liability against stronger and more experienced opponents; if they can evade or outlast the duration of her onslaught, she is left weak and tired and vulnerable to a counterattack. For this reason, Taiyang tells Yang it is best left as a last resort, rather than a crutch like she had been using it in the Vytal Festival.
Yang's cybernetic limb possesses great strength. Its power is shown in "Two Steps Forward, Two Steps Back", where a single blow sent her father, a fully trained Huntsman, skidding back several feet. It is also outfitted with a shotgun similar to Ember Celica's. In "Rest and Resolutions", it shows the arm can detach
from her bicep, and can even be fired like a projectile.
Although Yang gets stronger from taking damage, her frustration can be exploited by skilled opponents. This weakness is perhaps best expressed in her very brief confrontation with Adam, her anger causing her to recklessly charge him and lose her right arm in the process. However, this drawback is more or less under control due to her father's advice and he taught her how to use her opponent's force against him or her. Aside from that, knocking her unconscious before she can reach her final stage completely negates her Semblance. Yang is also noted to be weak against kick-based fighting styles, seen when she struggles against Neopolitan, Melanie Malachite, and Mercury Black.[7] As time progresses, however, she gains more control over her anger and has adapted to kick fighters.